Elaine's Knitting Page-devoted to users of the ISM Incredible Sweater Machine!
---
---
Shopping - Yarn sites on the web
R & M Yarns-Sells predominantly cotton yarns. Prices are reasonable-but you'll be buying in lb. weights.

Velona-Features closeout yarns as well as regular yarns. You can get some good deals here.
Webs-America's yarn store- again regular yarns and closeouts for the bargain hunter.
---
Completed Projects
Two of my completed projects using the Bond Incredible Sweater Machine.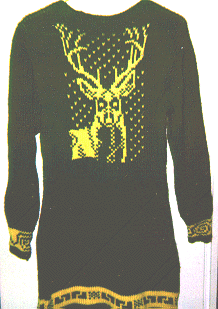 The sweater dress shown on the left and center is based on the charted patterns from
Enchanted Knitting: Charted Motifs for Hand and Machine Knitting

by Catherine Cartwright-Jones and Roy Jones. I used a Vogue sweater dress pattern and altered it to my needs-adding inset sleeves and changing the stitches used. The colors don't show up well in these photos the dress is green with a yellow pattern. Catherine and Roy Jones have a website where they offer free patterns (not the ones above) at Tap dancing lizard. It's worth checking out. You can also order some more extensive patterns from them through this site.
The lily sweater pattern is from Sue Bradley's Cotton Collection. I used Sugar n'Creme cotton so I had to adjust the intarsia pattern to fit my gauge.
Coats and Clark-This page offers free tips and patterns
My free scarf pattern This scarf uses Lion Brand Homespun yarn and the ISM.
---
Creating the worksheet
To create a conversion worksheet enter the text as shown in the worksheet below into a new worksheet in QuattroPro or Excel. You will have to adjust the column sizes to fit the text. Enter your gauge in cells B4 and B5 and their gauge in cells E4 and E5.
Enter any information from your pattern in cells B7, B8, E7, E8. Then enter the formulas shown in green below exactly as they appear into the corresponding cells including the parenthesis. Use Capital letters as shown.
Once the spreadsheet is set up--save it! Then you can edit the cells as needed. Don't change cells in rows 10 and 11 once you have set up the sheet as these rows contain the calculations. If ERR shows up in a cell in this row it means that some information is missing from one of the cells required to do the calculations. Don't panic!
If you have any further questions e-mail me at ladybird99@aol.com.
A

B
C
D
E

1

Gauge Conversion Sheet for QuattroPro or Excel

2

3
Your Gauge
Their Gauge
4
Stitches/4"=
Stitches/4"=
5
Rows/4"=
Rows/4"=
6
7
Width in inches needed=

Stitches/row called for in their gauge=

8
Length in inches needed=

Rows called for in their gauge=

9
10
Stitches required for desired width (your gauge)=

Stitches per row for your gauge=

11
Rows needed for desired length (your gauge)=
Rows needed for your gauge=
In Cell B10 enter (B4/4*B7)
In Cell B11 enter (B5/4*B8)
In Cell E10 enter (E7/E4*B4)
In Cell E11 enter (E8/E5*B5)
---
---

have stopped by since 12/4/98.

This site in the Free Knitting Patterns Netring is owned by Elaine's Knitting Page. [Previous| Next| Next 5 Sites| Random Site| List Sites | Join]
Page last updated 7/1/99.
Copyright © Elaine Bindler. 1999. All rights reserved.